82  %


18  %
Automotive Bulk Fasteners
AMK Products Bulk Fasteners
AMK Products has a huge passion for fasteners and offers many bulk fasteners not found elsewhere. Our strength includes bulk fasteners such as stainless steel capped bumper bolts, hex cap screws and flange bolts in special lengths and finishes, place bolts and U-bolts. Machine screws: fillister head SEMS, hex head SEMS, hex washer, stainless steel oval and pan head, oval head SEMS and stainless-steel pan head screws with shoulders. Tapping screws like hex and hex SEMS, hex washer, oval in stainless steel and oval SEMS. Nuts including hex and flange lock nuts, conical KEPS, J-nut and U-nuts, spring nuts and stamped nuts. Additional strong points are washers, studs, clips and retainers and all available in bulk.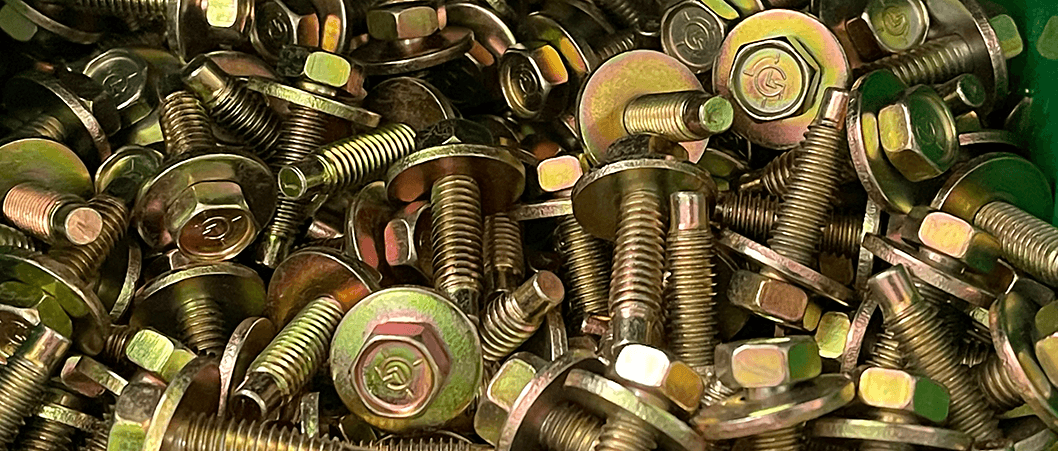 AMK is a distributor closely involved with its manufacturers. AMK also performs a range of secondary manufacturing processes inhouse. AMK constantly strives for quality gains to further distinguish our bulk fastener products and automotive restoration hardware by providing our manufacturers with highly detailed specifications, exacting cold heading tooling and a wide variety of SEMS washers. When it comes to our products … bulk fasteners and our automotive hardware kits, our philosophy is "The Difference is in the Details".
Finishes are super important at AMK and AMK offers bulk fasteners in a wide range of finishes. Most zinc and cad finishes are protected with a 20% wax coating, special attention is given to make sure phosphate finishes are properly pickled before the phosphate process, plus we are now transitioning applications with significant environmental exposure from phosphate to Delta Seal Black.
Buying bulk fasteners from AMK provides a number of benefits, not only can you be sure that you have chosen the best automotive restoration hardware for your project, but also will save yourself time, money and our clear labeling will help keep your project organized. With our restoration bolt kitson hand you will maximize purchasing efficiency and your project will uniformly reflect the quality you have chosen.
AMK believes it is sensible to keep things close to home and support American manufacturers. Therefore, AMK pledges to produce a minimum of 80% of our products here in USA. Current sourcing figures are our published at the top of this page.
AMK bulk fasteners are offered in a broad range of special configurations, many of which originated from our work with 1960's to 1980's automotive applications including Mustang, Camaro, Chevelle, Corvette, Dodge Challenger, Plymouth Barracuda, Chevy Truck, Ford Truck and Ford Bronco. This was a historic period of fastener innovation that produced many outstanding designs.
At AMK every item features a true image, "What You See Is What You Get". Please see and explore this website and learn more about our wide range of bulk fasteners and automotive restoration fasteners.