Marantz part #

feet and 51570410B0 screws.
100% correct for 1970's Marantz 22xx , 23xx, 4xxx series receivers and heavier components.
Measures 26.5mm OD (1.04") x 18.5mm H (.73"). Originally made in Japan from polyethylene we Made in USA using super tough BASF A3W Nylon 6/6 material. This material has much greater resistance to abrasion and cracking. Factory correct M4-.7 * 10mm srews with integral flat and split washers are included.
Attention to detail is unbelievable: every radius, angle, diameter, depth, wall thickness, cavity, rib placement, relief is matched exactly to the original. We believe if your going to spend the money to make a permanent mold then make it right ! Screws even have the original dot on the head.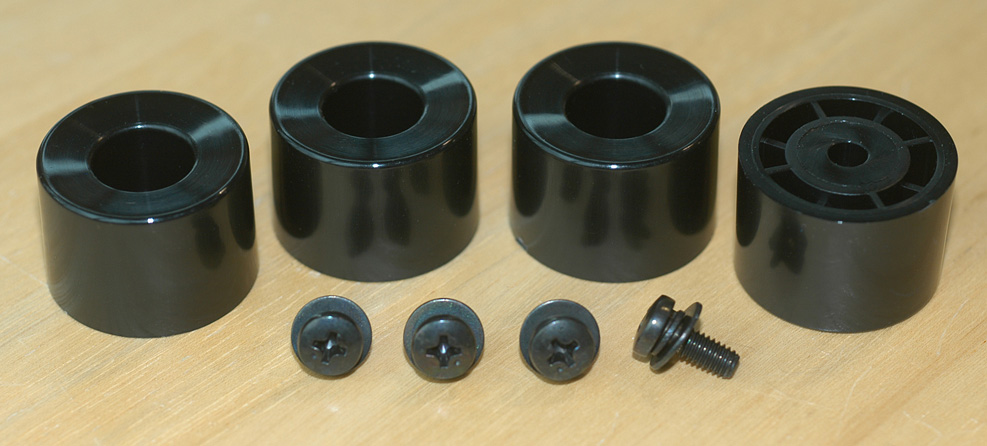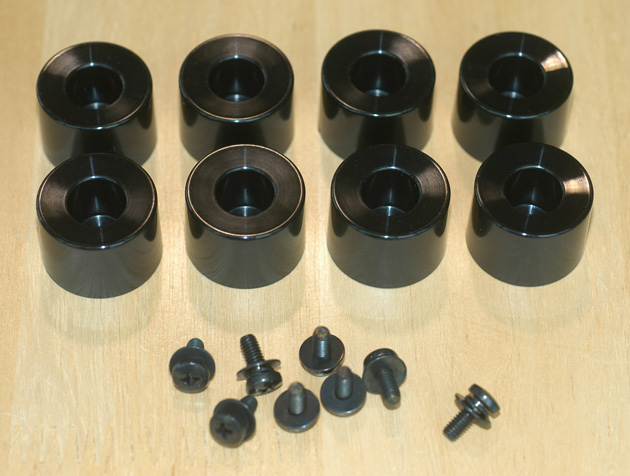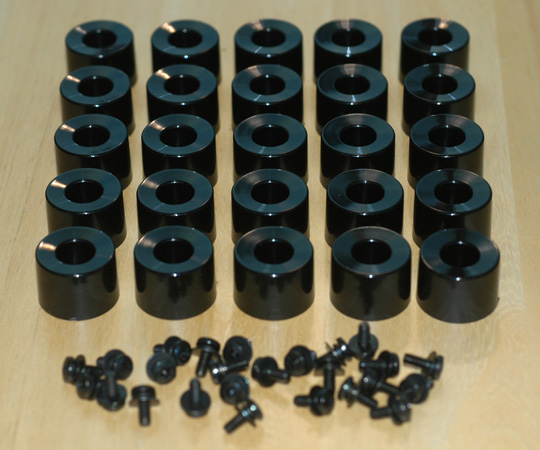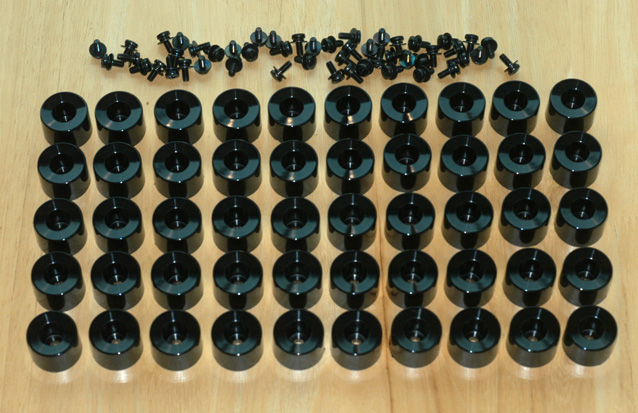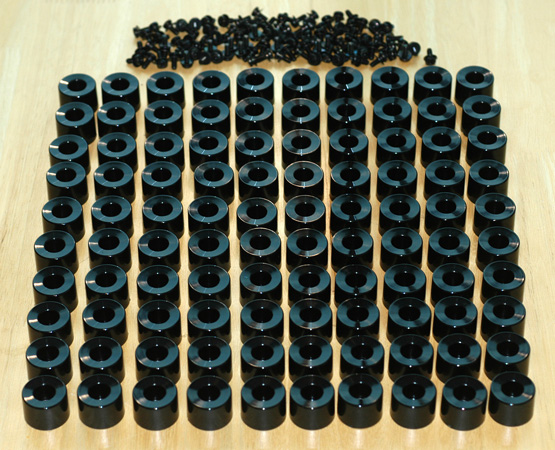 Part #

Description

Price

B-13247
MARANTZ CHASSIS FEET w SCREWS. 8 pk

$

25

B-13247-100
MARANTZ CHASSIS FEET w SCREWS. 100 pk

$

156.25

B-13247-1M
MARANTZ CHASSIS FEET w SCREWS. 1000 pk

$

1,150

B-13247-2.5M
MARANTZ CHASSIS FEET w SCREWS. 2500 pk

$

2,500

B-13247-25
MARANTZ CHASSIS FEET w SCREWS. 25 pk

$

46.75

B-13247-250
MARANTZ CHASSIS FEET w SCREWS. 250 pk

$

359.25

B-13247-50
MARANTZ CHASSIS FEET w SCREWS. 50 pk

$

87.50

B-13247-500
MARANTZ CHASSIS FEET w SCREWS. 500 pk

$

656.25

B-13247-5M
MARANTZ CHASSIS FEET w SCREWS. 5000 pk

$

4,312.50

B-13257
MARANTZ FEET w WOOD CABINET SCREWS. 4 pk

$

16

B-13257-10
MARANTZ FEET w WOOD CABINET SCREWS. 10 pk

$

20

B-13257-100
MARANTZ FEET w WOOD CABINET SCREWS. 100 pk

$

162.50

B-13257-25
MARANTZ FEET w WOOD CABINET SCREWS. 25 pk

$

46.75

B-13257-50
MARANTZ FEET w WOOD CABINET SCREWS. 50 pk

$

87.50

B-13308
M4-.7 X 10 PH PN 10 D FLAT SPLIT SEMS BLK ZC. 12 pk

$

12

B-13308-100
M4-.7 X 10 PH PN 10 D FLAT SPLIT SEMS BLK ZC. 100 pk

$

56.25

B-13308-1M
M4-.7 X 10 PH PN 10 D FLAT SPLIT SEMS BLK ZC. 1000 pk

$

375

B-13308-25
M4-.7 X 10 PH PN 10 D FLAT SPLIT SEMS BLK ZC. 25 pk

$

17.25

B-13308-250
M4-.7 X 10 PH PN 10 D FLAT SPLIT SEMS BLK ZC. 250 pk

$

125

B-13308-50
M4-.7 X 10 PH PN 10 D FLAT SPLIT SEMS BLK ZC. 50 pk

$

31.25

B-13308-500
M4-.7 X 10 PH PN 10 D FLAT SPLIT SEMS BLK ZC. 500 pk

$

218.75