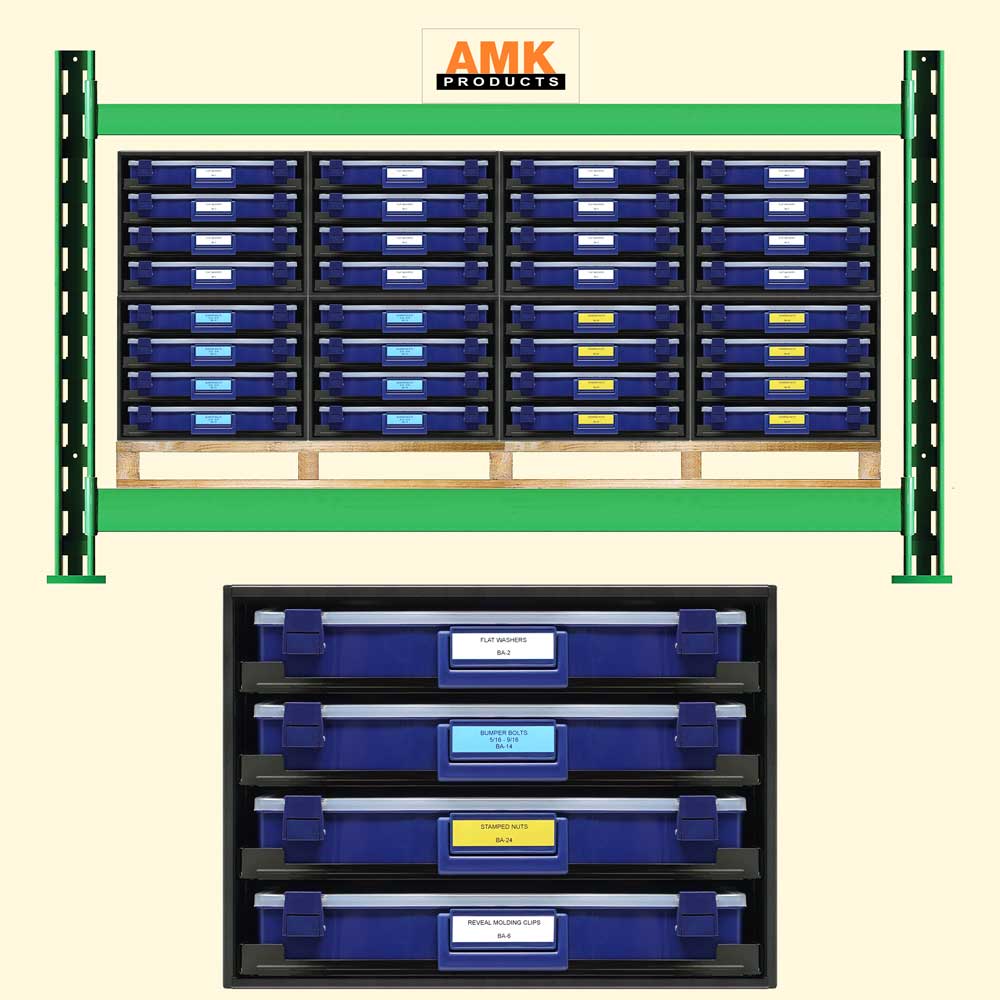 DESCRIPTION

TOTAL PCS

WEIGHT (lbs)

PRICE

BA-99
COMPLETE COLLECTION of 32 ASSORTMENTS
28482
338.59

$

9,500
Individual Assortments
DESCRIPTION

TOTAL PCS

WEIGHT (lbs)

PRICE

PIC

BA-01
1 BODY WASHER & SHIM ASSORTMENT
740
20.45

$

320

BA-02
1 FLAT WASHER ASSORTMENT
1410
9.28

$

280

BA-03
1 LOCKING WASHER & PLATE ASSORMENT
1005
5.58

$

270

BA-04
1 SPACER ASSORTMENT
119
6.59

$

350

BA-05
1 RETAINER ASSORTMENT
1255
4.06

$

390

BA-06
1 REVEAL MOLDING CLIP ASSORTMENT
1975
7.69

$

495

BA-07
1 RIVET AND PIN ASSORTMENT
1035
2.72

$

245

BA-08
1 RUBBER BUMPER & GROMMET ASSORTMENT
455
4.54

$

325

BA-09
1 FORD 1965-85 BODY BOLT ASSORTMENT
445
16.59

$

340

BA-10
1 GM 1964-72 BODY BOLT ASSORTMENT
505
17.73

$

375

BA-11
1 GM 1971-87 BODY BOLT ASSORTMENT
485
17.88

$

370

BA-12
1 CHRYSLER 1964-74 BODY BOLT ASSORTMENT
515
15.20

$

345

BA-13
1 MACHINE SCREW ASSORTMENT
770
11.84

$

345

BA-14
1 BUMPER BOLT ASSORTMENT 5/16-18 to 9/16-12
359
17.97

$

370

BA-15
1 HEX CAP SCREW ASSORTMENT 1/4-20 to 1/2-13
335
16.13

$

270

BA-16
1 FLANGE BOLT ASSORTMENT 1/4-20 to 9/16-12
332
15.90

$

335

BA-17
1 HEX NUT, EXT KEPS, SLOTTED NUT ASSORTMENT
1030
15.95

$

255

BA-18
1 HEX LOCKNUT ASSORTMENT 1/4-20 to 1/2-13
800
14.00

$

350

BA-19
1 CONICAL KEPS NUT ASSORTMENT 8-32 to 1/2-13
560
11.54

$

355

BA-20
1 FLANGE NUT ASSORTMENT 1/4-20 to 1/2-13
620
14.78

$

285

BA-21
1 J & U-NUT ASSORTMENT 8-32 to 1/2-13
570
10.17

$

355

BA-22
1 SPRING NUT ASSORTMENT #6 - 5/16
1200
6.25

$

340

BA-23
1 NYLON NUT ASSORTMENT #6 - #14
784
2.10

$

250

BA-24
1 STAMPED NUT ASSORTMENT
1625
5.75

$

455

BA-25
1 HEX SEMS TAPPING SCREW ASSORTMENT
840
10.30

$

370

BA-26
1 HEX WASHER TAPPING SCREW ASSORTMENT #8 - 5/16
1750
16.09

$

415

BA-27
1 OVAL HEAD TAPPING SCREW ASSORTMENT #6 - #10
1400
5.56

$

325

BA-28
1 PAN HEAD TAPPING SCREWS ASSORTMENT #6 - #14
1875
8.55

$

355

BA-29
1 ROUND WASHER & WAFER TAPPING SCREW ASSORTMENT
1750
7.20

$

340

BA-30
1 CLIPS for TUBING, WIRE & CABLE ASSORTMENT
371
3.97

$

290

BA-31
1 HEADLAMP HARDWARE ASSORTMENT
745
9.76

$

455

BA-32
1 PLUG & STUD PROTECTOR ASSORTMENT
832
6.80

$

260
AMK proudly presents the …
CLASSIC FASTENER COLLECTION
 Represented here is 30+ years of AMK fastener development !
Each of the 32 assortments include our most popular fasteners for the category. Reasonable starting portions minimize expenditure and allow stocking to suit the flavor of your shop.
The CLASSIC FASTENER COLLECTION contains 745 unique items, a total of 28,482 fasteners, housed in 8 cabinets measuring 20.5" W x 12.75" D x 14.75" H. Each cabinet contains 4 drawers with 24 compartments. The 4 larger compartments are utilized for the utmost popular or physically largest items.
Drawer lids contain detailed information about each item and individual QR codes provide direct-to-purchase links for easy reordering.
Individual bulk fastener assortments are discounted 30% with the drawer being included.
The CLASSIC FASTENER COLLECTION is discounted 40% with the cabinets, magnetic finish chart and "AMK Products" acrylic marquee included.
The collection provides a home base for in-shop organization of your AMK Products Bulk Fasteners !
NET weight = 339 lbs.  GROSS weight = 677 lbs.  TRUCK weight = 738 lbs.  DIMENSIONS = 42″ x 42″ x 40″ H
The Collection is excluded from the free shipping policy due to the large destination variance in truck shipping charges. AMK can access great trucking rates and will find the best solution.